The recovery of the hospitality sector is progressing largely as expected. Businesses once covered reopen, and green shoots have emerged. Our own data on card transactions shows that spending on hospitality returned to pre-Covid (2019) levels in July, when Candians ventured out of their homes. Next week Canada will take another step in the reopening process by opening its borders to fully vaccinated U.S. residents. There is growing concern that the growth of the delta variant could slow progress, especially in parts of the United States where vaccine rates are low. However, with more than 80% of eligible Canadians at least partially vaccinated, another round of inland blockades seems less likely – and much of the travel / tourism recovery to date has been driven by domestic tourists. Provided vaccines remain effective to protect against new strains of the virus, we expect a more lasting economic reopening for the rest of this year.
The bigger concern is whether strong demand will prompt further price increases. We expect next week's U.S. CPI report to show that the inflation rate will steadily stand at 5.4% in July. So far much of that increase can be attributed to "base effects" – as prices for products like energy, clothing and airfare have bounced back after falling sharply this time last year – and supply limits that have lifted the price of used vehicles. Early evidence shows that price pressures have receded from high highs – timber prices have declined and the wholesale price of used cars appears to have peaked. While businesses are removing supply chain bottles, we continue to expect price pressures to ease over the coming months. Central bankers will continue to look through provisional prices and carefully observe an underlying broad-based price increase.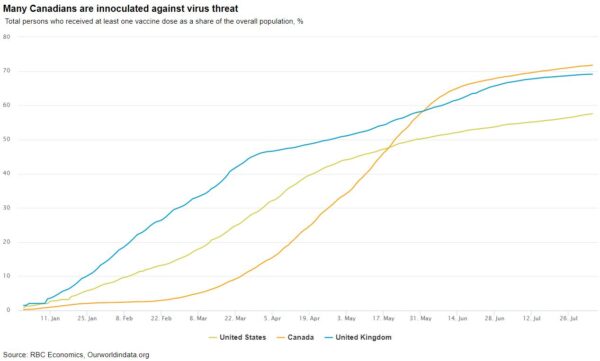 Pre-week data viewing:
Canada's greedy cases have grown slightly over the past two weeks. It is expected that a relatively high level of vaccination will limit the transition to hospitalizations as opposed to previous waves.