The Reserve Bank left the OCR at 0.25% today, but continued to signal interest rate increases in the future.
The RBNZ remains towards the removal of monetary stimulus.
But it had to change suitability in the face of the latest Covid block restrictions.
Demand in the domestic economy is in vogue, and now runs counter to capacity limits.
The new blockade will undermine demand soon. But this can and will be addressed through fiscal policy.
We wrote in OCR migration for November. But at this early stage it is difficult to clearly guide when RBNZ could resume its previous course.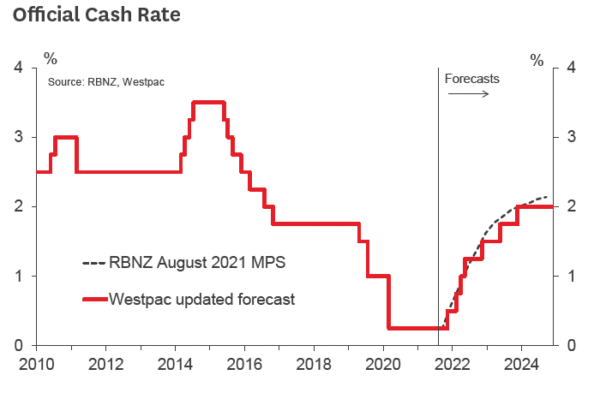 Today's Monetary Policy Statement was very much in line with what we expected, and was indeed a very similar economy to what we detailed in our recent Economic Overview. The Reserve Bank acknowledges that interest rates will have to rise in the coming years, and is clearly inclined to continue the work. But circumstances intervened, in the form of a Covid-19 community explosion and a return to the strictest blockchain settings.
Ahead of the boom, we expected three OCR hikes of 25 basis points this year, starting with today's review. Those migrations will be delayed, rather than canceled. However, it is too early to give clear advice on when RBNZ could return to its previously intended path. There is a wide range of options on when and how quickly the country can step up the Alarm Level ladder. And within that range, most (but not all) options would probably exclude the October OCR review so soon, so for now we've written in the first march for November
From there, we expect further rises in February, April and May next year. By that time, New Zealand's vaccination program will be very advanced, and hopefully we will no longer depend on keys like Covid's tool.
Details.
Like us, the Reserve Bank has paid more attention to the strength of demand in the New Zealand economy in recent months. So far our free strip has allowed the economy to grow momentum to a greater degree than we have seen in many other countries.
This strong demand also contradicts supply limits, many of which relate to Covid-19 interruptions and the healthy response to it. The RBNZ noted the limitations in the labor market in particular, with the loss of access to migrant workers leading to a mismatch between the skills needed by employers and those available in the local labor base. That said, RBNZ has conceded that employment is growing, rather than stalling (as we would expect to see if it is just about supply limits). RBNZ now expects unemployment to fall below 4% over the next year.
RBNZ expects annual inflation to reach just over 4% by the end of this year. Some of this is inevitable because it reflects temporary price shocks that have already occurred. But even after that, RBNZ thinks it will take some time for inflation to fully rest at the 2% midpoint of its target range, even with the help of higher interest rates in the coming years.
Indeed, the RBNZ's projections show that the OCR will grow by 2.1% by the end of 2024. This is slightly above the RBNZ's estimate of the "neutral" level of the OCR, though not by a significant amount. Coming from a starting point of 0.25%, this means that RBNZ has a lot of work to do – it is clear that current monetary policy settings are very stimulating, more than is necessary for an economy so hot.
However the case of higher interest rates contradicts the greater risks posed by the Delta variant of Covid-19. Obviously the latest explosion crystallized those risks, but they were just as apparent a few months ago as they are today. Despite this, it is noteworthy that the "least unfortunate" approach to RBNZ policy has shifted to inflation as the biggest threat during the last two reviews. In this regard, today's statement was as sharp as the previous one in July.
RBNZ rightly noted that an easier monetary policy is not the right answer to block conditions. Instead, fiscal policy is the best way to give support – and this is actually happening because the Government has introduced the resources it used in previous blockades, such as the wage subsidy.
Monetary policy is more useful to sustain the economic rebound when it comes out of a deadlock. But past experience suggests that even then its role is limited – performance tends to easily bounce back after a set of limitations. And when that happens, the RBNZ will be faced with many of the same problems it once had – an economy that is pushing up capacity limits, and risking a longer period of inflationary pressures.