Our weekly analysis of Elliott Waves looks in detail at the GBP / USD, the Ethereum cryptocurrency and the Gold commodity.
Our analysis indicates a bearish ABC correction on the GBP / USD, a possible 5 wave down on ETH / USD, and a slow wave 4 pattern on XAU / USD.
ETH / USD low must respect shallow Fibs
The Ethereum cryptocurrency pair (ETH / USD) is down after breaking below the support trend lines (dotted green):
Price action could move down lower in 5 waves (pink). But price action should respect the shallow Fibonacci levels (red box) and resistance trend line (red).
A break above these Fib levels puts the bearish analysis on hold. A low rebound and a lower continuation, however, could confirm the 5-wave pattern in wave A (gray).
The main targets of the bearish swing are the -27.2% and -61.8% Fibonacci targets.
Anyway, a bigger ABC (gray) pattern seems to occur in wave 4 (yellow) correction.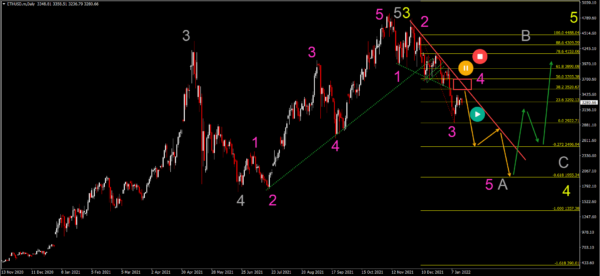 GBP / USD strength expected to face opposition
The GBP / USD is showing a strong bullish momentum that could break above the resistance's (red) downtrend:
The bulls, however, face a strong resistance zone from the front top (red box). A bear bounce is likely to take place here (orange arrows).
A bear ABC (blue) pattern could appear at the resistance to create a retreat. But this could simply complement wave B (pink) within a larger ABC (pink) pattern.
The blue box could indicate an inverted head and shoulder pattern. A deeper bearish rebuke would put the bullish ABC on hold or cancel it. A stronger push up above the resistance (red box) however will still indicate a wave A (pink) most likely.
XAU / USD bullish chart pattern
Gold moves sideways after a strong impulse move up:
A bullish break above (green arrow) the resistance (red) trend line could indicate an uptrend continuation. But if the current Elliott Wave analysis is correct, then the previous top should stop the upward trend.
A bear bounce (orange arrow) could complete the ABC (blue) in wave B (pink) and send price back down to the front bottom.
A bullish bounce (green arrow) at the front bottom could complete the ABC (pink) pattern within wave 4 (yellow) and resume the uptrend.
A deeper rebuke under the front bottom puts the uptrend suspended or canceled.