Bitcoin continued with its bullishness, as it surged its price above the USD $23,000 level, a positive signal among miners reduced the sales of their mined coins. On-chain currents flagged by Bitifinex analysts indicates that the amount of Bitcoin moved from Bitcoin mining addresses to wallets owned by crypto exchanges has fallen to multi-year lows.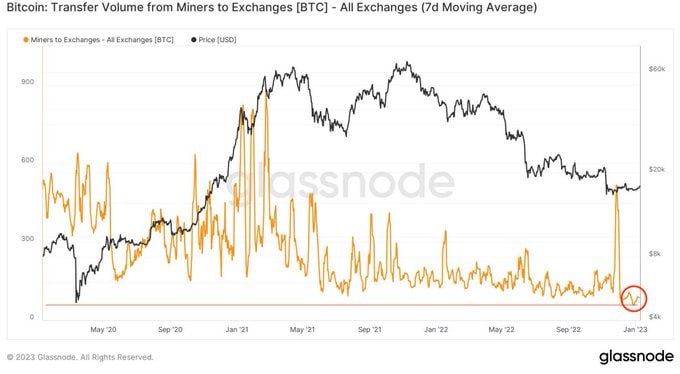 Selling Power Low, Favorable For BTC Rally
According to a Bitfinex analyst, Bitcoin miner sales are at a three-year low. The report claims that the sell-off could be a sign that Bitcoin miners are in the mood to hoard coins as they await the rise in prices of the leading cryptocurrency.
The decreased Bitcoin sales of mining companies means low selling pressure from these market actors. Therefore, it signals bullishness for the broader market.
The analysts, however, stated that the recent increase in Bitcoin price could witness a correction, as investors try to recover their profits between the current prices.
The analysts identified large wallets (> $1M) as the most responsible for accumulating Bitcoin. They further said that such wallets, as well as major market actors, are the ones creating the buying pressure that comes after the FTX saga and series of bearish events generally witnessed last year.
The analysts mentioned that since the second week of January, the numbers of wallets with $1,000 and $10,000 of Bitcoin have increased. The analyst further acknowledged that the trading activities of retail investors accompanied the upward trend.
According to the figure above, the current low Bitcoin selling pressure coincided with the lowest sales in November last year. The current low level signals a green (bullish) indicator for the cryptocurrency.
When miners sell more BTC, it implies bearish for the currency value. Conversely, when mining firms do not have the selling incentive, this suggests a bullish trend for the crypto market.
Today's Bitcoin Price
Bitcoin has increased its value by nearly 40% this month, trading at $22,909, up 1.48% on Tuesday. The crypto is trading at levels not witnessed since the fall of the FTX exchange. BTC volume is around $26.82 billion, an increase of 12.78% in the past 24 hours, according to Coinmarketcap.
As highlighted above, the rise in Bitcoin value could be attributed to whales committed to hoarding coins amid rising prices. The bullish trend is also seen in the global crypto market capitalization, which is trading at a higher level, around $1.06 trillion, up 1.27% in the last 24 hours, according to Tradingview.
Featured image from Unsplash, Chart from TradingView.