Canadian CPI data will be watched closely (including by Bank of Canada officials) in a week that will also include the federal government's fall economic update and (we expect) more signs that the consumer spending backdrop is softening. Year-over-year CPI growth is expected to slow significantly to 3.1% in October (just above the top end of the BoC's 1% to 3% inflation target range) from 3.8% in September. A drop in gasoline prices pushed energy costs lower and the lagged impact of easing supply chains and lower food commodity prices continue to slow grocery store price growth.
There is not much that the Bank of Canada can do to impact global commodity prices, and price growth excluding food and energy products is expected to be 'stickier', edging up to 3.3% year-over-year from 3.2% in September. Much of that growth is still coming from surging mortgage interest costs that are a direct result of Bank of Canada interest rate increases. Price growth excluding those costs has been slower – the so-called CPIX core measure that also excludes mortgage interest costs along with 7 other volatile price subcomponents has slowed to 2.8% year-over-year after hitting a peak of 6.1% in June 2022. Growth in the BoC's current preferred median and trim core CPI components have still been running well above the 2% inflation objective but are expected to edge lower on both a year-over-year and 3-month rolling average basis in October.
Inflation pressures going forward are increasingly likely to slow with economic growth and labour markets looking softer. The advance estimate of September retail sales was unchanged from August, which would leave sales in volume terms down ~2 ½% at an annualized rate in Q3. And our own tracking of card transactions is also showing a slowdown in spending on discretionary services (alongside softer retail sales) into October.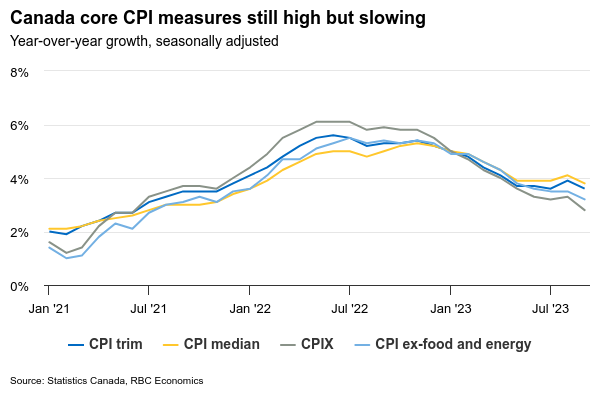 Week ahead data watch
The federal government's fall federal budget update will come alongside a slowing growth backdrop. Housing supply is expected to be a focus of the update with high rates of population growth stretching capacity. But a slower economic growth backdrop is also weighing on government purchasing power with the Parliamentary Budget Office estimating that the deficit for the current fiscal year will come in $6 billion wider than expected in in the last budget.