Gold prices (XAU/USD) surged more than 1.0% on Thursday of this week, rebounding from a lackluster performance in the previous trading session. This upward momentum was driven by a notable retreat in U.S. Treasury yields, spurred by disappointing labor market data released earlier in the day. Key catalysts include higher-than-expected applications for unemployment benefits, recording 231,000 for the week ending November 11 against a forecast of 220,000. Continuing jobless claims also surpassed expectations, reaching 1,865,000, the highest in almost two years, indicating growing challenges in American employment. The combination of lackluster economic indicators and positive October CPI and PPI figures supports the perception that the Federal Reserve's tightening cycle is concluding, fostering expectations of future rate cuts, which has contributed to gold's upward trajectory amid a more dovish FOMC monetary policy outlook. But is this all there is to Gold? Read on to find out.
XAUUSD – W1 Timeframe
The weekly timeframe of XAUUSD shows price currently retesting a supply zone that is in very close proximity to the 76% of the Fibonacci zone. This on its own signifies that the upward rally has likely come to an end, and we may begin to see a reversal. We are not done yet though, so let's see what the Daily timeframe indicates.
XAUUSD – D1 Timeframe
On the Daily timeframe of XAUUSD, we see that price has been rejected initially from the supply zone and seems to simply be heading back up in search of a supply zone from which its bearish momentum can be easily recovered.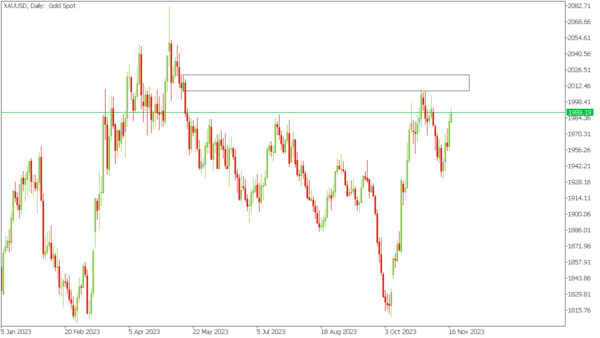 XAUUSD – H4 Timeframe
This 4-Hour chart clarifies the entire prospects for Gold. Here, we can see price currently trading around the 76% level of the Fibonacci, and the supply zone. There is also a notable trendline resistance which serves as an additional confluence for a bearish sentiment.
Analyst's Expectations:
Direction: Bearish
Target: 1952.00
Invalidation: 2010.00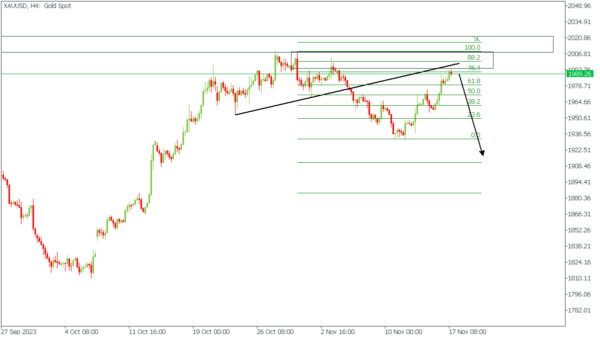 CONCLUSION
The trading of CFDs comes at a risk. To succeed, you have to manage risks properly. To avoid costly mistakes while you look to trade these opportunities, be sure to do your due diligence and manage your risk appropriately.