In the world of forex trading and financial markets, successful traders understand the importance of technical analysis. It's a powerful tool that helps them make informed decisions and predict price movements. Among the various technical analysis tools available, the Fibonacci Retracement MT5 Indicator stands out as a valuable and versatile tool that traders rely on. In this article, we will explore the intricacies of the Fibonacci Retracement MT5 Indicator, how it works, and how you can leverage it to enhance your trading strategies.
What is Fibonacci Retracement?
The Fibonacci Retracement is a technical analysis tool based on the Fibonacci sequence, a series of numbers where each number is the sum of the two preceding ones (e.g., 0, 1, 1, 2, 3, 5, 8, 13, 21, and so on). This sequence has fascinating mathematical properties and is prevalent in nature. In the world of trading, it is used to identify potential support and resistance levels on a price chart.
How Does it Work?
The Fibonacci Retracement tool consists of horizontal lines drawn on a price chart to indicate potential reversal levels. These levels are based on key Fibonacci ratios, such as 23.6%, 38.2%, 50%, 61.8%, and 100%. Traders use these ratios to identify areas where a price correction (retracement) is likely to occur before the prevailing trend resumes.
Utilizing the Fibonacci Retracement MT5 Indicator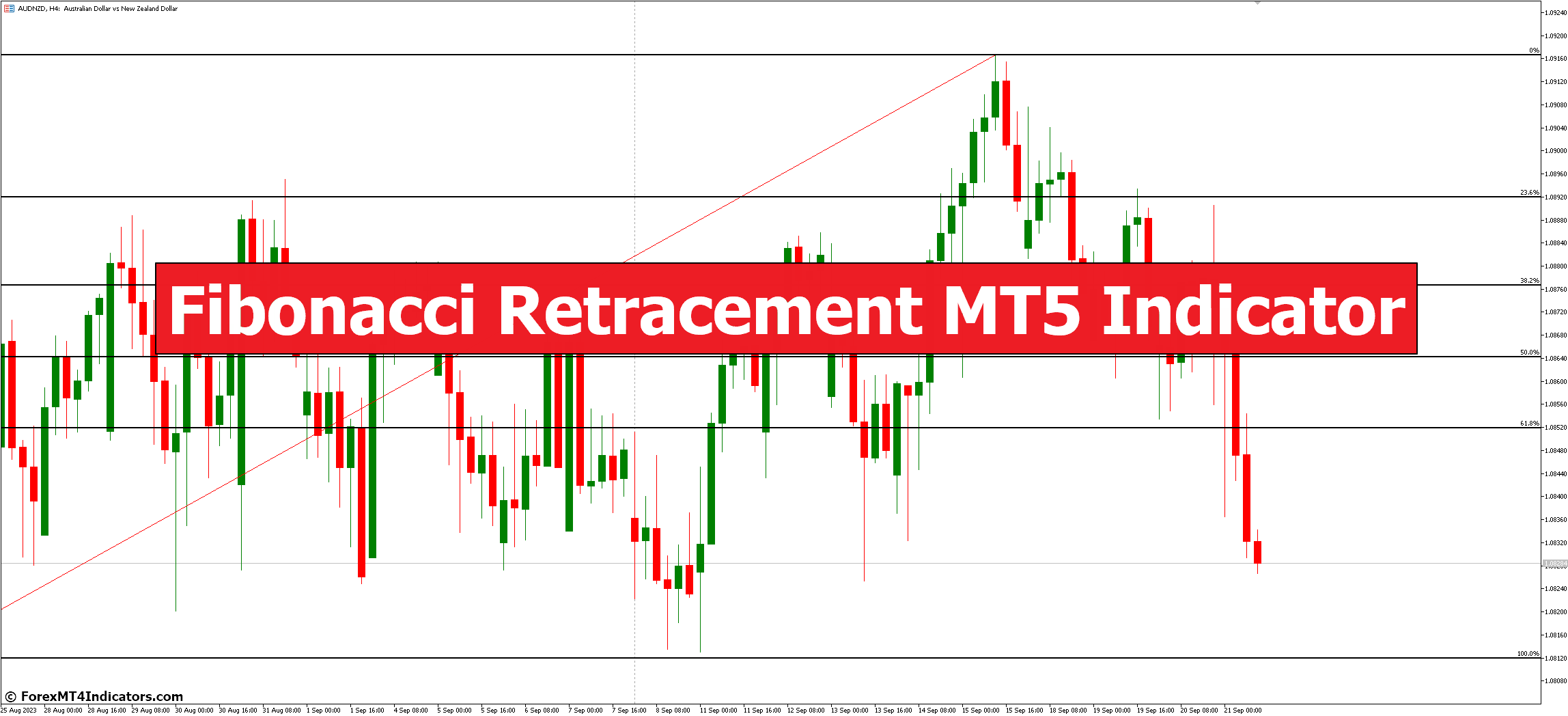 Identifying Potential Entry and Exit Points
Once you have the Fibonacci Retracement MT5 Indicator on your chart, you can start using it to identify potential entry and exit points for your trades. Here's how:
Identify the Trend: Determine the prevailing trend on your chart, whether it's an uptrend or a downtrend.
Draw Fibonacci Levels: Use the indicator to draw the Fibonacci levels on the chart. Start from the lowest point of the trend (for uptrends) or the highest point (for downtrends) and draw to the opposite end.
Analyze the Levels: Pay close attention to the key Fibonacci levels (e.g., 38.2% and 61.8%) as potential areas of reversal.
Combine with Other Indicators: To increase the accuracy of your analysis, consider combining Fibonacci retracement with other technical indicators like moving averages or relative strength index (RSI).
Advantages of Using Fibonacci Retracement
Precision in Trading
One of the primary advantages of the Fibonacci Retracement MT5 Indicator is its precision in identifying potential reversal points. Traders can make well-informed decisions, reducing the risk of entering or exiting a trade at the wrong time.
Versatility
The Fibonacci Retracement can be applied to various financial markets, including forex, stocks, and commodities. This versatility makes it a valuable tool for traders across different asset classes.
Risk Management
By identifying potential support and resistance levels, traders can implement effective risk management strategies. Stop-loss orders and take-profit levels can be strategically placed based on Fibonacci retracement levels.
How to Trade with Fibonacci Retracement MT5 Indicator
Buy Entry
Look for price retracement in an uptrend that approaches a Fibonacci retracement level, such as 38.2% or 50%.
Wait for additional confirmation signals like bullish candlestick patterns or indicators that suggest a reversal, such as RSI (Relative Strength Index) crossing above 30.
Place a buy order when the price confirms a bounce or reversal from the Fibonacci level.
Sell Entry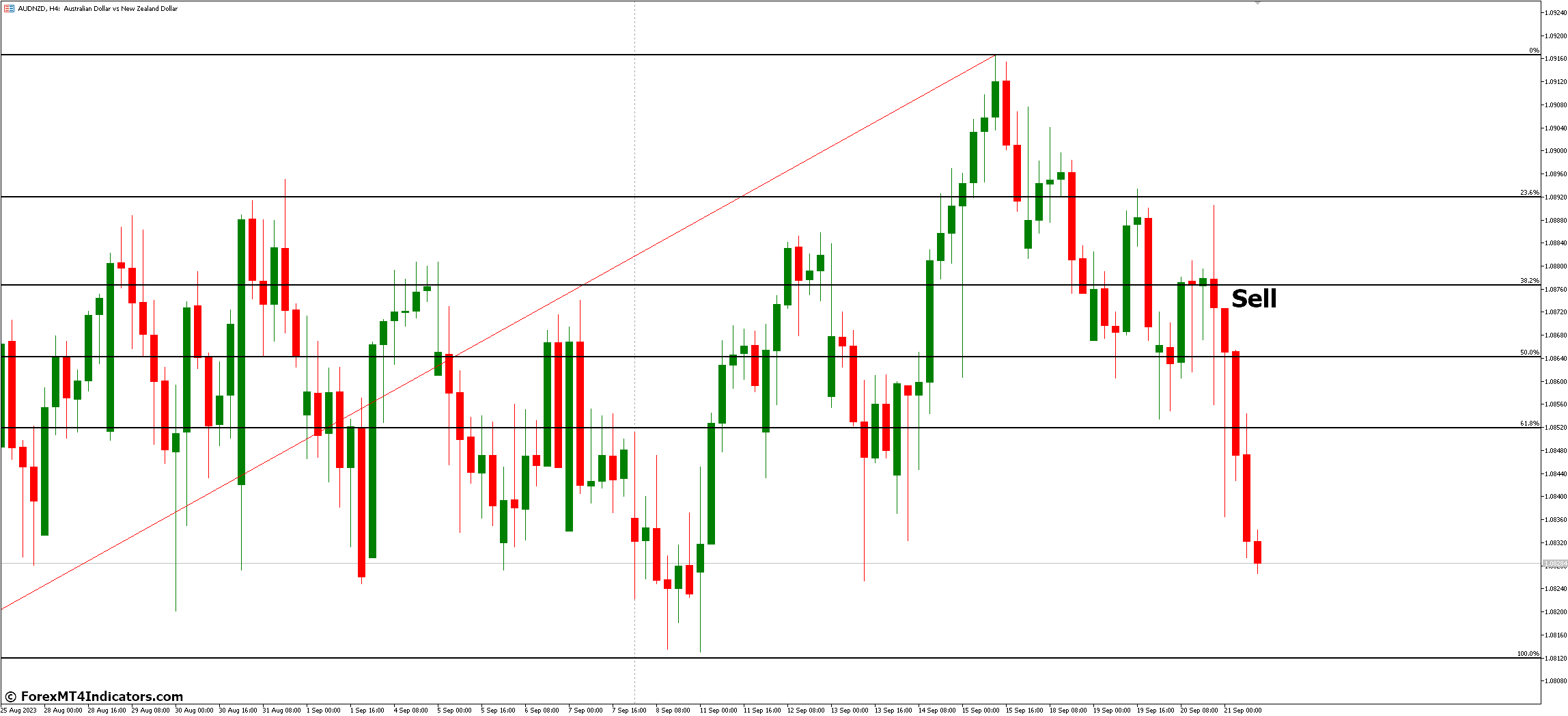 In a downtrend, observe price retracement towards a Fibonacci retracement level, e.g., 38.2% or 50%.
Wait for confirmation signals such as bearish candlestick patterns or indicators like RSI crossing below 70.
Enter a sell order when the price confirms a reversal or resistance at the Fibonacci level.
Fibonacci Retracement MT5 Indicator Settings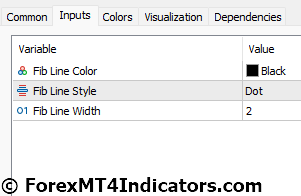 Conclusion
In the world of forex trading and financial markets, the Fibonacci Retracement MT5 Indicator is a powerful ally for traders. Its ability to pinpoint potential reversal levels and assist in decision-making is invaluable. By incorporating this technical analysis tool into your trading strategy and combining it with other indicators, you can enhance your trading skills and increase your chances of success.
FAQs
Can I use the Fibonacci Retracement MT5 Indicator for day trading?
Yes, the Fibonacci Retracement MT5 Indicator can be used for day trading. It is versatile and effective for various trading timeframes.
Are there any limitations to using Fibonacci retracement levels?
While Fibonacci retracement is a valuable tool, it is not foolproof. It works best when used in conjunction with other technical analysis methods.
Is the Fibonacci sequence related to trading only?
No, the Fibonacci sequence has applications in various fields, including mathematics, science, and art. It is a universal mathematical concept.
Can I customize the Fibonacci Retracement MT5 Indicator settings?
Yes, you can customize the indicator settings in MT5 to suit your trading preferences and strategies.
MT5 Indicators – Download Instructions
This is a Metatrader 5 (MT5) indicator and the essence of this technical indicator is to transform the accumulated history data.
This MT5 Indicator provides for an opportunity to detect various peculiarities and patterns in price dynamics which are invisible to the naked eye.
Based on this information, traders can assume further price movement and adjust their strategy accordingly. Click here for MT5 Strategies
Recommended Forex MetaTrader 5 Trading Platforms
XM Market
Free $50 To Start Trading Instantly!

(Withdrawable Profit)

Deposit Bonus up to $5,000
Unlimited Loyalty Program
Award Winning Forex Broker
Additional Exclusive Bonuses Throughout The Year
>> Claim Your $50 Bonus Here <<
How to install MT5 Indicator to your MetaTrader 5 Chart?
Download mq5 file below
Copy the mq5 file to your Metatrader 5 Directory / experts / indicators /
Start or restart your Metatrader 5 Client
Select Chart and Timeframe where you want to test your mt5 indicator
Search "Custom Indicators" in your Navigator mostly left in your Metatrader 5 Client
Right click on mq5 file
Attach to a chart
Modify settings or press ok
And the Indicator is available on your Chart
How to remove MT5 Indicator from your Metatrader 5 Chart?
Select the Chart where is the Indicator running in your Metatrader 5 Client
Right click into the Chart
"Indicators list"
Select the Indicator and delete
(Free Download)
Click here below to download:
Download Now